About Us
Like a beautiful flower, we extend a warm welcome to all!
Daisy's guest house (Harare) is a neat and luxurious place that offers accommodation in a convenient location. The place is ideally situated in the tranquil suburb of Greendale North. The guest house is located within close proximity to the local shops like Chisipite Shopping Centre and Kamfinsa Shopping Centre. It is also a mere 15 km from the CBD, and 8 km from Borrowdale Village. The guest house comprises of twenty well-equipped bedrooms, all of which are en suite. Enjoy a traditional feel in this stylish and comfortable place which has bedrooms that are decorated with ethnic furniture..
Double Room
The double rooms come with a double bed and can accommodate up to two people. The room comes with a TV set that has access to DSTV and all double rooms are en-suite.
Twin Room
Our rooms accommodate up to two people in adjacent three quarter beds. All our twin rooms have access to televisions with DSTV and en-suite bathrooms, with bath and toilet.
Triple Room
Our triple rooms accommodate up to three people in adjacent three quarter beds. The triple rooms have access to televisions with DSTV and en-suite bathrooms, with bath and toilet.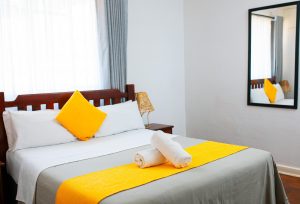 Superior Room
Our 2 superior rooms open up to a combined private lounge. The room itself has a queen bed, has a bar fridge, a flat screen tv with access to DSTV and has en-suite bathroom.
The room was very clean, good beds and bedding… Great service and would strongly recommend anyone looking for a home away from home, secure neighborhood and value for your money.
Very comfortable and peaceful, I had very warm welcoming from Bob and the crew so I believe that I'd come back once more very soon.
We had such an amazing time at Daisyies! Yvonne and Daisy and all the staff and cooks are SO friendly and they really made us enjoy the stay!!! Thank you very much!!!
We had a great time at Daisy's; the rooms, the staff, the food was outstanding!! I recommend this place.
What you Get
Amenities & Services
Dining facility for upto 36
Coffee Maker in Double Rooms
Braai/ Barbeque facilities
Visit Harare in Style
We Could Have Vacancy!
Due to the overwhelming response from our guests, we could be overbooked. But, hey it wouldn't take a sweat to try out.